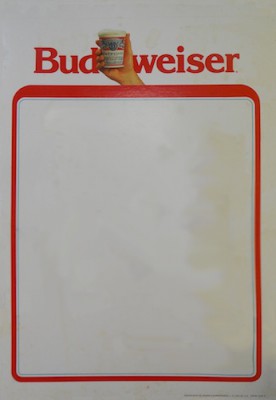 The Bud works are a series of hand produce drawings/printings rendered on the back of blank, Budweiser advertizing stock.  These were the type of branded, blank, cardboard sign that were typically supplied to bars and liquor stores for local use as. These 16×20 signs were often used to advertize price specials at the point of purchase.
September, 1981. I was frequenting a local liquor store and saw the clerk using an over sized, green Magic Marker to put up a "this weekend only" price on six packs of Bud. I thought the surface looked interesting and asked if I could have one of the blanks. He responded by sliding the entire box across the counter to me, saying that he had an unlimited, free supply of them.
Had he only given me one, I would have only experimented with one. Instead I experimented with a box full. These renderings were done in late November 1981  through March 1982.  Among the 16 boards was an attempt at printing,  5 versions of a combined wood cut and hand stamping I called "Grasping" (metaphore intended). These are not refined works by any means. These were the result of youthful experimentation with expressions, color, textures and materials, from crayon to spray paint, watercolor to ash.