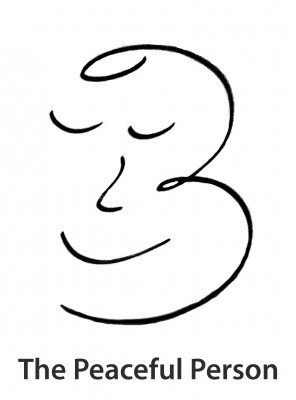 The Peaceful Person is a way of thinking. It is a method, a prayer, an action, and a declaration.
"The Peaceful Person is not man nor woman nor young or old. They are neither sad or overjoyed. They are not black nor white nor red, yellow or blue. The Peaceful person is rational,  transcendent, universal and alive. The Peaceful Person is the presence of peace we choose.  I am the Peaceful Person. And that's enough." MJS
"Call upon your Peaceful Person at moments you are in need. Close your eyes, breath deeply and smile. Bring the three together and open your eyes. Your heart will follow."
The Peaceful Person is my friend. This simple line drawing became part on my personal identity sometime in the teenage years. I marked my paintings with it and have continued to use it for many things since. The Peaceful Person, like Peace itself, is to be shared.